Toyoda Gosei Develops Air Conditioner Register with LED Illumination


World's first application of wireless power transfer technology to automotive part

December 06, 2018

Kiyosu, Japan, December 6, 2018: Toyoda Gosei Co., Ltd. has developed an air conditioner register with LED illumination that uses wireless power transfer technology based on magnetic resonant coupling,* the first such application in an automotive part.

The new vent register, used on the LEXUS UX, has LED illumination to improve the night visibility of the knob that adjusts the direction and strength of air flow. With a conventional wired power supply, the wire harness could break from repeated manipulations of the knob and other problems could occur. These issues are avoided with the application of a wireless power transfer technology. A wireless system also allows for greater freedom of design.

The new register also employs coupled mirrors within the lens of the LED light. This gives the ring of light an appearance of depth and creates a futuristic feel.

These technologies were recognized with the CE Special Award from Toyota Motor Corporation.

Toyoda Gosei is developing modular products that integrate electronics into automotive parts based on its core technologies in the polymer fields of rubber and plastics. It will continue to utilize wireless power transfer and other technologies in providing new values that will be needed by customers in the age of autonomous and electric vehicles.

※ Using the physical phenomenon of resonance, in which a vibrating system drives another system to oscillate at specific frequencies, the technology enables the transfer of electric power to a distant location by causing resonance in the frequency of the magnetic fields among resonant circuits.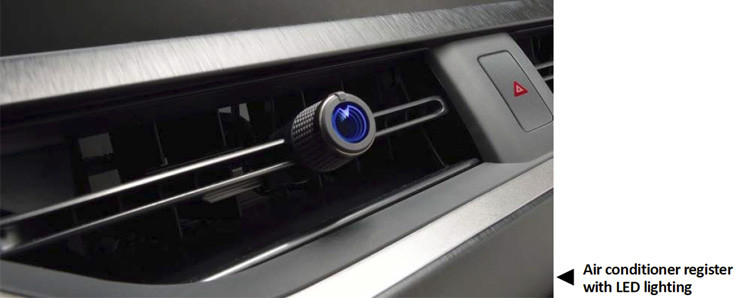 Structure and power supply principle

① Electric current flows in source circuit on the register circumference.
② A magnetic field with a constant frequency is generated around the current.
③ A receiver circuit in the center of the register (knob body) resonates and a magnetic field with the same frequency is generated around it.
④ A current is generated in the receiver circuit by the magnetic field, and the LED lights up.



About Toyoda Gosei
Established in 1949 and headquartered in Kiyosu, Aichi Prefecture, Japan, Toyoda Gosei is a leading specialty manufacturer of rubber and plastic automotive parts. Today, the Toyoda Gosei Group provides a variety of high-quality products internationally, with a network of approximately 100 plants and offices in 18 countries and regions. Through its flexible, integrated global supply system and leading-edge technologies, Toyoda Gosei aims to grow as a global company that acts flexibly and swiftly in today's dramatically changing business environment, delivering the highest levels of satisfaction to customers worldwide through safety, comfort, well-being and the environment.