Technical capability
Technical capability
Capitalizing on our knowledge in the fields of rubber and plastics and our experience in new business development, we have built an engineering network that is finely tuned to the current trends for CASE, carbon neutrality, and the SDGs, and can respond flexibly.
Knowledge in the Fields of Rubber and Plastics
Three-pronged development system of materials, design, and process methods
By conducting materials development, design, and process development in-house, we can deliver high quality products at reasonable prices.
• Development of materials with a superb balance of quality and cost using our rubber and plastic material formulation technology and kneading technology to mix those materials.
• Design know-how to make the best use of material characteristics and raise product performance.
• Development of various types of process technology with more compact equipment to produce products that have a low environmental impact, high quality and low cost.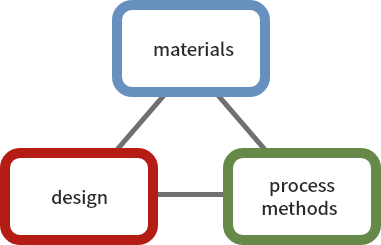 Product example

High pressure hydrogen tanks

Toyoda Gosei makes one of the three tanks used in the second generation Mirai fuel cell electric vehicle (FCEV). These tanks are a crucial component of FCEVs.
(1) Development of a plastic tank material with a special molecular structure that prevents the permeation of hydrogen
(2) Selection of the best material (carbon fiber reinforced plastic) to make the pressure resistance layer thinner
(3) Designing a way to wrap the plastic tank with carbon fiber reinforced plastic to increase strength
(4) Shorter processing time and fewer defects by reviewing the welding method for the plastic tank
Leveraging our know-how in materials, design, and process methods, we increased the storage efficiency by more than 10% compared with the high pressure hydrogen tanks in the first generation Mirai.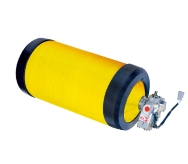 Experience in developing new businesses
Under our company creed of "Boundless Creativity and Social Contribution," we have had many successes over our 70-year history of quickly anticipating the needs of the times in areas such as safety and the environment, and developing suitable products. These experiences form the basis for our mindset of taking on challenges, as set out in the TG Spirit. We treasure this mindset that has been passed down to us by our predecessors, and will continue contributing to the development of society through our efforts to address social issues.
World firsts
SRS curtain airbags

Blue LEDs

Emblems compatible with
millimeter-wave radar systems

Lightweight opening trim

Plastic fuel filler pipes
New initiatives for social issues
Medical care and health
e-Rubber

UV-C LED

High pressure hydrogen tanks
Environment
Power devices

Re-S eco-brand
Global Network
Technology development network that covers major automobile markets
We support speedy vehicle development with close cooperation between locations outside Japan and Toyoda Gosei World Headquarters in the areas of technology, development, and production technology, which enables us to respond to vehicle development at automakers' locations around the world.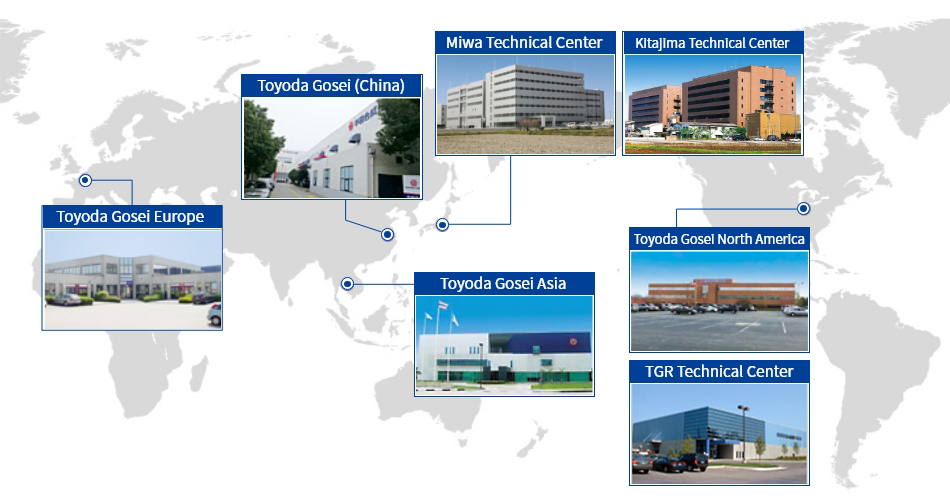 Integrated handling from development to production
We are involved at every step, from product planning and design proposals to material development, engineering, and high quality production, to flexibly meet the needs of our customers.
Planning design

Envisioning the future products that will guide our technology.

Thinking beyond next generation vehicles is the foundation for Toyoda Gosei's planning design.
Together with market research, we quantify the level of "delight" felt by users.
We then design the products desired by users and bring them to reality with Toyoda Gosei's original technologies in rubber, plastics, and LEDs.
These products are then presented to manufacturers.
Looking to 2030 and beyond, we aim to create new products from our advanced technology that will be the future of Toyoda Gosei.

Development

Solving problems to achieve ideals.

The creation of products with new value is the mission of development.
We tackle issues in creating new products by combining development of mechanisms
and circuitry that give products new functions and performance together
with materials technology to create the best materials right down to the molecular structure for each product.
Through the sharing of ideas and taking a multifaceted approach, we make products with high added value.

Design

Infusing the user's perspective into our products.

We take a design image and transfer it to our technical drawings.
Toyoda Gosei pursues two things in design: manufacturing efficiency and user ease-of-use. Take a cup holder, for example. We devise a shape and structure so that it can hold all sizes of plastic bottles. A comfortable and safe vehicle comes from always keeping the focus on the user.

Assessments

Theoretical performance prediction and phenomenon analysis.

CAE for virtual prediction and assessment from CAD data without making an actual product.
Experiments that assess and analyze actual phenomena using physical "things." Phenomena are theoretically elucidated from CAE and experiments and reflected in product design.
Our assessment technology that enables a detailed understanding of physical properties from the material development stage is a major reason that customers choose Toyoda Gosei.

Production preparation

Bringing high quality quickly and surely to the market.

The work of production preparation starts from the design stage.
In parallel with decisions about product shape and materials made during design,
we consider and simulate the molding machines, dies, materials, and processing conditions that will be used.
Hole position and temperature control for the injection of plastic materials into dies strongly impacts product appearance and performance.
Our aim is to start production and reliably produce good products as soon as design drawings are completed.
SRS curtain airbags
Installed in the vehicle roof on the sides, curtain airbags deploy to cover the side windows during side collisions and protect occupants' heads
Using deployment simulations and various other analysis and evaluation technologies, we developed curtain airbags as the system to most effectively lessen impacts to the head during side collisions. In 1998, Toyoda Gosei became the first in the world to mass produce these airbags.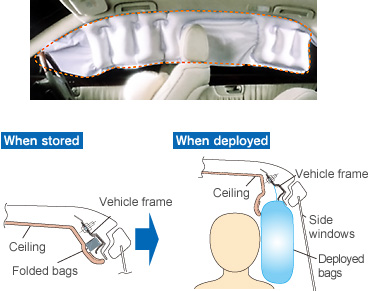 ×
Blue LEDs
Light-emitting diodes that give off blue light are characterized by low energy consumption and long life
In 1991, under the direction of Prof. Isamu Akasaki of Nagoya University, we successfully developed blue LEDs as fourth generation lights following fire lights, electric bulbs, and fluorescent lights. Together with red and green LEDs, which were already available, this gave us all three primary colors of light to achieve full color displays and white lighting with LEDs.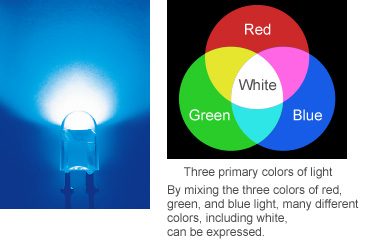 ×
Emblems compatible with millimeter-wave radar systems
Vehicle emblems that can be used with millimeter-wave radar collision prevention systems
Previous emblems used uneven surface designs or metal that did not allow millimeter-wave radar to pass through. Our metal vapor deposition technology and coatings that allow the passage of radio waves brought about emblems that are compatible with millimeter-wave radar systems while reproducing a metallic sheen and design equivalent to those of plating.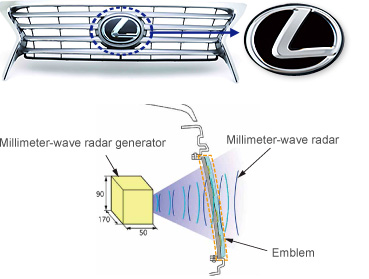 ×
Lightweight opening trim
A sealing part used on the vehicle body side of the door opening to protect the vehicle cabin from wind, rain and noise
We succeeded in making a sponging process thanks to the development of new solid rubber materials, which are used in the largest amounts and have the largest mass in the material composition of opening trim. With this process we can make sponge of all the rubber we use, achieving weight reduction of about 30%.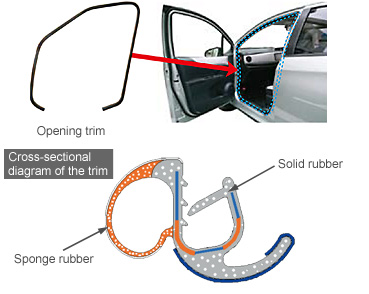 ×
Plastic fuel filler pipes
Pipes that send fuel from the fuel filler opening to the fuel tank
Using corrugation (bellows) forming technology, we have succeeded in creating uniform formation of three different cross sections (flexible portion, stiff portion, straight portion) and developed an all plastic fuel filler pipe with performance equivalent to that of previous metal pipes. The multilayer structure of these pipes also improves the fuel resistance and durability of the pipes. This achieves a 50% reduction in weight.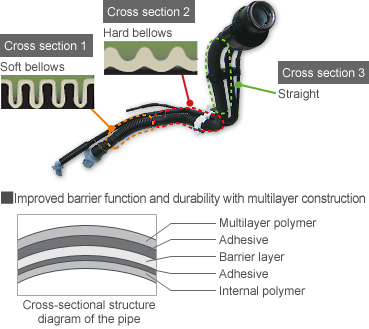 ×