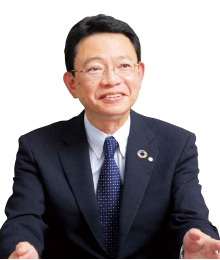 Hiromasa ZaitsuCorporate Officer


As a good corporate citizen, the Toyoda Gosei Group aims to contribute to development of the economy and society through business activities rooted in each country and community and social contribution activities. To build a foundation for those endeavors, we are developing professionals who can act globally and promoting diversity and workstyle reforms. We respect the individuality of each person while increasing our collective strength through teamwork to achieve a vibrant corporate culture with meaningful work. We will continue to conduct research and development in anticipation of future changes, raise the level of our manufacturing technology, strengthen our supply chain and make constant kaizen efforts to satisfy our customers.
Customer Relations

With priorities on customers and quality, we are working to constantly improve our products and services and our value as a company.
Uniform global quality assurance
Toyoda Gosei ensures quality in all business activities, from development to production, based on our basic quality policy. Every one of our plants has obtained certification in the ISO 9001 (JQA-QM7318/QMA11826/ QMA12841) and IATF16949 (JQA-AU124) international standards for quality management systems. Each plant also sets its own quality control goals for production. These goals are based on the principles of Total Quality Management, or TQM? activities designed to enhance the quality of products, work, and management, and increase the dynamism of individuals and organizations, through constant improvement and the participation of all based on the "Customer First" principle. In addition, all Group companies use our Quality System Global Standards, which incorporate quality improvement with rules and know-how to ensure quality.
■Fundamental principles of TQM
Monitoring and responding to manufacturing processes and market quality
Defect-free process completion is carried out in production and other processes for parts involved in the basic automotive functions of running, turning, and stopping, as these parts are directly linked to safety. We want the Toyoda Gosei name to equal quality in the minds of customers worldwide. For this purpose, we advance quality assurance declaration activities at all production locations. This means that all employees make efforts to improve safety and the people in charge of all manufacturing processes improve quality through the development of people and processes. When a mechanism that can ensure the target quality has been completed and is in place, the manager makes an "assurance declaration" to the president or site manager. The president or site manager then conducts a site inspection. Through "jidoka," we improve quality by creating processes that do not produce or pass on any defects and developing workers with a high sensitivity to safety and to avoiding mistakes. We also have fulltime auditors who audit and improve processes at all production sites globally.
A system is in place so that whenever a quality problem occurs in the market, we can quickly investigate the causes based on information from automakers and implement prevention measures. When it is difficult to pinpoint the cause of a problem and develop solutions internally, we work with the quality departments of automakers to take precise measures to prevent recurrence based on inspections with test vehicles and other means. In this way we prevent such quality defects from occurring in the next products.
Ongoing "Quality Assurance Declaration Activities"
These activities have been conducted since 2012 to improve quality in terms of developing both workers and processes with the aims of cultivating a workplace culture of continuous improvement and building robust shop floors. In FY2016 targets were set for activities from the operators' perspectives and in accordance with the quality level of each process. Once a target is achieved, the area moves on to the next target in an upward spiral. Kaizen is done for work that is difficult to perform and places where quality is inconsistent in each section. When the stage is reached with zero complaints, a declaration of assured quality is made and the executive in charge makes an on-site check of the improvements that have been implemented. The company president or executive in charge shake hands with the supervisor responsible for the manufacturing area to affirm the declaration.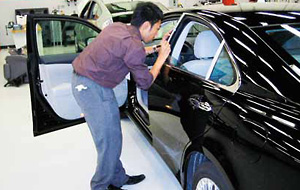 TQM for a stronger, better company
With "Customer First" firmly in mind, we carry out TQM programs globally to raise the quality of products and work to increase individual and organizational dynamism. All employees make continuous improvements from their respective positions. In this way we build stronger, better corporate structures throughout the Toyoda Gosei Group. In FY2018 the second TG Global Small Group Activity Conference was held. Outstanding examples of kaizen from TG locations around the world were presented while global TG members studied and learned from each other.
■TQM activities at Toyoda Gosei
Level
Activities
Managerial
Improving workplace management
Staff
Small group activities
Improving statistical quality control (SQC) and quality engineering (QE) capabilities
Line
Small group activities (QC Circles)
Second "TG Global Small Group Activity Conference"
A Global Small Group Activity Conference was held in December 2018 to present outstanding examples of kaizen activities. About 200 people, including Toyoda Gosei executives and leaders of domestic and international Group companies participated. Toyoda Gosei began QC circle activities in 1972 at each workplace to advance voluntary line kaizen and greater work efficiency. These activities have since spread to Group companies in all parts of the world, including the Americas, Europe and Asia. We began holding Global Small Group Activity Conferences in 2016 to bring together international Group companies and domestic affiliates with the aim of communicating with each other and sharing best practices to stimulate further activity.
Sales activities aligned with customer needs
Toyoda Gosei sales and other departments meet the demands of customers around the world, growing sales while building good customer relationships. We collect and analyze data on customers' needs and the issues they are facing, and then work with engineering and other relevant departments in the company to present development plans aligned with those needs to provide products that will satisfy them.
New product exhibits
Every year we undertake activities to show Toyoda Gosei's new products. In an exhibit held at a customer's location in October 2018, we showed many products that contribute to well-being, safety and comfort under the concept "Products that bring people and automobiles together in the age of CASE." About 2,000 people visited the exhibit over three days. Visitors' comments included that "the products make me feel the future of automobiles" and many other positive reactions.
Recognition from customers
Our quality improvement efforts have been recognized by global customers.
■Quality awards received (FY2017)
Recipient
Commending organization
Award
TGUK
Monthly Supplier Award
Toyota Motor Manufacturing (UK) Ltd.
TGSA
Quality Excellence Award
Toyota South Africa Motors (Pty) Ltd.
TJTG
Superior Quality Award
FAW Toyota companies
Quality Cooperation Award
GAC Toyota Motor Co., Ltd.
TGZH
Quality Excellence Award
GAC Toyota Motor Co., Ltd.
TGFP
Superior Quality Award
GAC Toyota Motor Co., Ltd.
Nissan Motor Co., Ltd.
TGFR
Quality Cooperation Award
GAC Toyota Motor Co., Ltd.
Cost Cooperation Award
VA/VE Excellent Partner Award
Dongfeng Honda Automobile Co., Ltd.
Excellent Performance
Nissan Motor Co., Ltd.
MTG
Quality Award
Toyota Kirloskar Motor Private Ltd.
Zero PPM Supplier
Toyota Kirloskar Auto Parts Private Ltd.
Quality Award
Suzuki Motor Corporation
Toyota Kirloskar Auto Parts Private Ltd.
TGMIN
Best Quality Supplier
Toyota Kirloskar Motor Private Ltd.
Zero Defect Award
Quality Award
TGSIN
Best Project Performance
Toyota Kirloskar Motor Private Ltd.
TGT
Annual Excellent Parts Manufacturer
Toyota Parts Center Asia Pacific
Quality Award
Mitsubishi Motors (Thailand) Co., Ltd.
TGRT
Quality Award
Mitsubishi Motors (Thailand) Co., Ltd.
TGNA
Cost Improvement Excellence Award
Toyota Motor North America, Inc.
Cost Analysis Excellence Award
TGFSUS
Quality Excellence Award
Toyota Motor North America, Inc.
TGKY
Superior Quality Award
General Motors Company
Quality Award
Nissan Motor Co., Ltd.
TGASK
Quality Award
Toyota Motor North America, Inc.
TGMO(TGMS)
Quality Excellence Award
Toyota Motor North America, Inc.
WTG
Quality Award
Toyota Motor North America, Inc.
TGRMX
Quality Award
Toyota Motor North America, Inc.
GDBR
Quality Excellence Award
Toyota Argentina S.A.
Procurement/Quality Award
Honda Automoveis Do Brasil Ltda.
Pecval
Quality Achievement Award
Toyota do Brasil Ltda.