Third-Party Assessment
The Toyoda Gosei Group has gained consistent recognition for its Group-wide environmental activities. The Group will increase its activities for further improvement based on these assessments.
Third place in Environmental Management Survey 2019 corporate ranking by Nikkei, Inc.
In the corporate ranking of the 22st "Environmental Management Survey," which assesses companies' efforts in improving both environmental measures and operational efficiency, Toyoda Gosei was ranked third in the manufacturing category. This survey by the Nikkei Shimbun has been conducted every year since 1997. Companies' environmental management is comprehensively analyzed, and they are evaluated for their progress in improving both environmental measures, such as greenhouse gas and waste reduction, and operational efficiency. The survey this year included leading publicly traded and privately held companies (1,731 manufacturing companies, 1,318 non-manufacturing companies).
Third place in the transportation equipment sector in the WWF's ranking of measures to combat global warming
Toyoda Gosei was ranked third in the transportation equipment sector of the "Corporate Anti-Global Warming Measures Ranking" conducted by WWF Japan (2015). WWF Japan ranks each company's efforts using 21 indicators, including long-term vision, units of reduction, energy-saving targets, renewable energy targets, difficulty of total reduction targets, understanding and disclosure of emissions volumes of entire LC, and third-party assessments. Toyoda Gosei was recognized for its steady progress in the use of renewable energy, including the introduction of quantitative targets, an area that holds the key to energy savings and anti-global warming measures.
Toyoda Gosei acquired the highest ranking in the Development Bank of Japan's DBJ Environmental Rating*1
In the DBJ Environmental Rating (implemented in 2017) of the Development Bank of Japan (DBJ), we received the highest rating, "Particularly advanced efforts for environmental friendliness." We were recognized for our efforts to minimize CO2 emissions and develop environmentally friendly processes and equipment under a cross-company and global system led by the company president, with the TG 2050 Environmental Challenge as our long-term goal, and for efforts to improve the fuel efficiency of vehicles, which are the final product, both in terms of lighter weight and functionality through the development and design of products and materials that are easy to recycle throughout the entire life cycle.
*1 A rating system developed by DBJ that evaluates the level of environmental management of a company, identifies superior companies, and applies a three-step loan interest rate according to the score.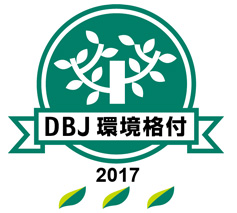 "A" rating by CDP for climate change engagement
In a company survey conducted by the CDP*2, an international not-for-profit environmental organization, we have received an A− rating in two fields, "Climate change" and "Water security," for two consecutive years.
We actively disclose information through the approach of management to environmental activities, ESG briefings for institutional investors and other activities. In addition to medium- and long-term environmental targets, we set numerical targets for each year. This and activities to steadily reduce CO2 and water usage in a step-by-step fashion led to these ratings.
Our efforts to reduce CO2 in coordination with suppliers, Scope 3 emissions information disclosure, and efforts to combat climate change were also highly rated, and we have received an "A" rating for two consecutive years in climate change supplier engagement.
*2 A not-for-profit organization (NPO) established in 2000. It is operated with support from institutional investors and others in each country, and conducts surveys of corporate environmental information and publishes the results.