Environmental management

In coordination with affiliated companies in Japan and other countries, we are continuing employee training and education programs so that every employee can act with awareness of the environment.
We are also making aggressive efforts for education to raise the environmental awareness of employees and train personnel for sustainable environmental activities.
Enhancing Group-wide environmental management
Environmental activities
The entire Toyoda Gosei Group promotes environmental management. Environmental data has been collected by domestic affiliates since FY2001 and by international affiliates since FY2003. Based on these environmental data (CO2 emissions, waste, water usage, VOC emissions, and more), we set annual targets and promote reduction activities every year.
■Plants subject to environmental management
Toyoda Gosei Co., Ltd.
Affiliates in Japan

Haruhi Plant
Nishimizoguchi Plant
Seto Plant
Inazawa Plant
Bisai Plant

Morimachi Plant
Heiwacho Plant
Kanagawa Plant*1
Inabe Plant*2

Ichiei Kogyo Co., Ltd.
Toyoda Gosei Hinode Co., Ltd.
Hoshin Gosei Co., Ltd.
Toyoda Gosei Interior
Manufacturing Co., Ltd.
Kaiyo Gomu Co., Ltd.

TG Opseed Co., Ltd.
TGAP Co., Ltd.
TS Opto Co., Ltd.*3
TG East Japan Co., Ltd.
Toyoda Gosei Kyushu Co., Ltd.

Overseas Affiliates

■Americas
(Regional headquarters: Toyoda Gosei North America Corporation)

TG Missouri Corporation
TG Kentucky, LLC
TG Automotive Sealing
Kentucky, LLC

TG Fluid Systems USA Corporation
Toyoda Gosei Texas, LLC
Waterville TG Inc.
TG Minto Corporation
TAPEX Mexicana S.A. de C.V.

Toyoda Gosei Automotive Sealing
Mexico S.A. de C.V.
GDBR Industria e Comercio de
Componentes Quimicos e de Borracha Ltda.
Toyoda Gosei Rubber Mexico, S.A. de C.V.
Pecval Industria Ltda.
Toyoda Gosei Irapuato Mexico, S.A. de C.V.

■Asia
(Regional headquarters: Toyoda Gosei Asia Co., Ltd.)

Toyoda Gosei (Thailand) Co., Ltd.
Toyoda Gosei Rubber (Thailand) Co., Ltd.
Toyoda Gosei Haiphong Co., Ltd.

Toyoda Gosei South India Pvt. Ltd.
PT. Toyoda Gosei Safety Systems Indonesia

Toyoda Gosei Minda India Pvt. Ltd.
Fong Yue Co.,Ltd.
PT Toyoda Gosei Indonesia

■China
(Regional headquarters: Toyoda Gosei (China) Investment Co., Ltd.)

Tianjin Toyoda Gosei Co., Ltd.
Toyoda Gosei Star Light (Tianjin) Auto Parts Co., Ltd.
Toyoda Gosei (Zhangjiagang) Co., Ltd.

Toyoda Gosei (Foshan) Rubber Parts Co., Ltd.
Toyoda Gosei (Foshan) Auto Parts Co., Ltd.
Toyoda Gosei (Tianjin) Precise Plastic Co., Ltd.
Hubei Toyoda Gosei Zheng Ao Rubber & Plastics Sealing Technology Co., Ltd.

■Europe and Africa

Toyoda Gosei UK Ltd.
Toyoda Gosei Czech, s.r.o.
Toyoda Gosei South Africa (Pty). Ltd.
*1 The Kanagawa Plant was closed in August 2021. *2 The Inabe Plant was added from April 2021. *3 TS Opto will be liquidated from December 2021.
Acquired ISO 14001 certification. When new plants and new companies are established, we aim to acquire ISO 14001 within three years of starting operation.
Development of environmental management systems with international affiliates
Internationally, we established environmental management functions in the China region from 2010, the Asia region in 2014, and the Americas region in 2015, and have been strengthening our management systems. In FY2018, we started regular teleconferences with regional headquarters Toyoda Gosei Asia Co., Ltd. in Thailand to share information and further strengthen cooperation.
Start of "Regular Environmental Management Liaison Meetings" in Asia
Regular Environmental Management Liaison Meetings have been held with Toyoda Gosei (China) Investment Co., Ltd.*4 in the China region since FY2013, and with Toyoda Gosei North America Corporation in the Americas since 2016. They have now been started with Toyoda Gosei Asia Co., Ltd. The main aims are openness and timely collection of area information, and exchange of opinions to raise staff levels.
*4 In FY2013, Toyoda Gosei (Shanghai) Management Co., Ltd.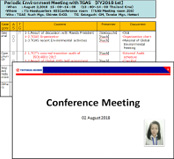 Environmental audits
Audit of whether environmental management systems are operating properly.
ISO 14001 environmental audit
Toyoda Gosei and its domestic and international affiliates acquire ISO 14001 environmental management system certification. Internal environmental audits are carried out by audit teams composed of members from business areas outside those being audited in order to raise the independence and objectivity of the audits. Toyoda Gosei Co., Ltd. commissions external reviews by the Japan Quality Assurance Organization (JQA) to assess whether our environmental management systems are run properly in accordance with ISO 14001. We are promoting 100% acquisition with the intention to have new companies acquire ISO 14001 certification within three years of being established.
■ISO 14001-certified production sites

Acquisition rate 100%
Toyoda Gosei Co., Ltd.
7 plants
Affiliates in Japan
10 companies
Overseas Affiliates
Americas: 12 companies,
Asia: 7 companies,
China: 7 companies,
Europe/Africa: 3 companies
Internal environmental audits
/ Toyoda Gosei Hinode Co., Ltd.
International environmental audits
Voluntary inspections are performed based on TG Global EMS, which are environmental management system standards that we have established ourselves, and kaizen activities are carried out.
Correction measures have been completed for all correction items.
Toyoda Gosei (Thailand) Co., Ltd.
Activities based on green procurement guidelines
We conduct surveys of the status of compliance with green procurement guidelines of the suppliers with whom we do business, and conduct genchi-gembutsu (go and see) inspections of high-risk companies. When needed, we carry out joint kaizen activities.
In carbon neutrality study groups, we provide examples of CO2 reductions and other information.
Environmental education
Toyoda Gosei educates employees on environmental problems including the destruction of nature and environmental pollution, the impacts on the environment of production activities, and compliance with environmental regulations. The content each year emphasizes understanding and practices based on legal trends, with examples incorporated to create specific and understandable teaching materials.
■Environmental education system


■Education to improve skills of environmental staff
Through TG Global EMS and monthly reports, we conduct training to improve environmental skills to share viewpoints and examples of environmental load reduction and improve knowledge of environmental management work.
In FY2018, medium-term CO2 reduction targets were shared and training to improve environmental skills was conducted in May for environmental managers at regional headquarters Toyoda Gosei (Shanghai) Investment Co., Ltd. (China) and Toyoda Gosei North America, Inc. (Americas). In October, we participated in the annual environmental staff meeting of the China Environmental Committee and provided training on compliance management for the elimination of environmental problems. Going forward, we will continue to promote environmental education centered on the staff at key environmental management locations.
Site inspection for case of reduction
(Inazawa Plant)

China Environmental Committee
Activities to raise environmental awareness
We are attempting to raise the environmental awareness of employees through Environment Month events, regular environmental lectures, and other activities so that all employees have an awareness of the environment in their activities for ongoing environmental protection.
We also conduct a questionnaire survey of employees each year to assess their environmental awareness and plan educational activities based on the results.
Virtual environmental exhibition
This year we held a virtual environmental exhibition to share issues and goals related to environmental protection within the company.
Normally, we hold these exhibitions with a format that includes panels set up in conference rooms within the company. This year, however, we held the exhibition online (company intranet) to prevent the spread of COVID-19 and so that it could be visited by employees at any time.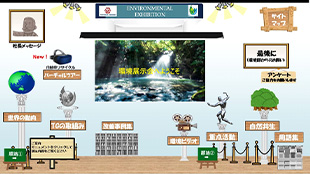 Eco tour
Eco tours are held for employees and their families to learn about the environment. In FY2020 we cleared undergrowth and thinned trees in the Kimori no sato, a woodland area we began maintaining the year before.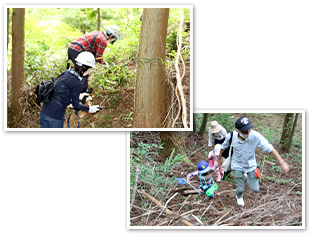 Information shared on ECO-PARK
To promote our Mottainai Activities, we send out information on Mottainai proposals, the status of TG flea market efforts, and environmental activities related to Mottainai on the company intranet each month.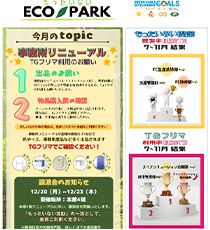 Mottainai senryu (Environment Month)
With the aim of raising environmental awareness, we sought senryu verses from all employees of the TG Group with the theme of "Mottainai" ("What a waste!) related to energy, resources and time in our surroundings. Representative works were selected in each department and company, and from them six people were chosen for "Excellence Awards." Submissions were also posted on the company's internal website to raise environmental awareness.
Award
Senryu verses
Gold Award
hope we can hear / "Thank you" / from the earth
Silver Award
Recycling— / finite resources / infinite wisdom
In meetings / only the content / should be dense [close together]
Bronze Award
Switch / both electricity and work / on and off
One Team / even when separated / using Teams
Environmental forum
Environmental forums are held to raise environmental awareness and promote environmental activities.
This year we invited Prof. Yukari Takamura, a leader on the topic of climate change, to give a talk on "Corporate responses for carbon neutrality." The talk included various examples on the latest trends in the world and the need for efforts as a company.
Environmental awareness survey
Toyoda Gosei Co., Ltd. conducts an environmental awareness survey of employees in Japan every year to assess their awareness of environmental trends and company environmental activities.
We conducted the fifth such survey in FY2020, and were able to confirm progress in improvements from the year before. Issues such as disparities in awareness between departments remain, and we are moving ahead with efforts to correct these things.
Responding to surveys by the media, environmental NGOs, customers and others and sharing information on our environmental activities outside the company
We actively disseminate information on our environmental activities by publishing various reports, including our annual report and securities report, and by responding to CDP, Nikkei SDGs, and other surveys, and surveys by our major customers.
We also hold ESG briefings and other events to engage with stakeholders such as institutional investors, and improve our environmental activities based on the information we obtain.
ESG briefing