Philosophy・Vision
Company
Philosophy・Vision
Pursuing the possibilities of polymers, we will contribute to a future of better mobility and living
Toyoda Gosei was founded in 1949, and over more than 70 years has provided high functioning, high quality products and services based on synthetic rubber and plastics and associated mixing technology. This is done in conjunction with various stakeholders involved in development, engineering, procurement, production and sales. Our company name includes the word "gosei" ("synthesis") from a philosophy of creating new things using our main materials, and that mindset has continued today.
The automotive industry is currently going through a period of huge transformation with advances in electrification, autonomous driving and other areas. As management, we must steer a very difficult course in opaque and uncertain circumstances where the future is difficult to predict, amid changing human values, deepening environmental and social problems and geopolitical risks. Our company creed is "Boundless Creativity and Social Contribution" and with this as our cornerstone we will adapt greatly and take on challenges while continuing to value the polymer-based assets in many forms that have been built up by our predecessors.
These cultivated assets are not limited to the fields of technology, products, control technology and the like, but also include our deeply rooted corporate culture.
Like the hexagonal benzene molecule that symbolizes our company, various molecules (= individuals) come together and are linked organically. Chemical reactions of ideas and creativity occur and an organization is structured that changes flexibly according to the environment. We also have ties with other organizations (all stakeholders) and grow expansively.
To further develop this kind of culture, we will adapt to whatever changes occur in the business environment and take these changes as opportunities. We want people to think, "Toyoda Gosei is fascinating, don't you think?" and "They will surely do something good for us."
The Toyoda Gosei Group harnesses the power of 40,000 employees in 62 Group companies in 16 countries and regions under our slogan of "One Team, One TG." We have and will continue to deliver satisfaction to customers in the form of safety, comfort, well-being, the environment and decarbonization to enrich transportation and people's lives.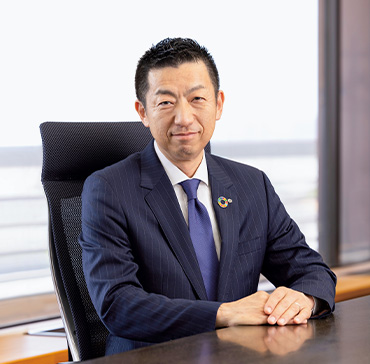 President
CEO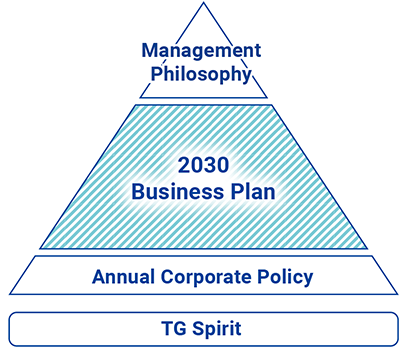 Management Philosophy
Boundless Creativity and Social Contribution
1

We, as a good corporate citizen, contribute to the economy and society through community-based business activities and social action programs.

Good corporate citizenship

2

We promote business operations with integrity through the establishment of a system founded on thorough compliance and corporate ethics.

Proper business operation

3

We aim to build up the TG Group's collective strength through an open and fair relationship with suppliers, through a mutually strengthened corporate structure and innovative management response to change.

4

We aim to provide products and services with satisfying quality and price in a timely manner, through forward-looking R&D and production engineering.

5

We aim to conserve the global environment and resources in order to hand down a greener world to our children through every business activity, which includes cooperation with society and the development of an environment-friendly product and manufacturing process.

Conservation of global environment and resources

6

We aim to establish a vibrant corporate culture through respect for individuality and the value of enhanced teamwork, based on shared responsibility and mutual trust between employees and management.

Respect for the individual
Medium- and Long-Term Business Plan "2030 Business Plan"Click here for details

[Basic policy and priority measures]
[Basic policy]
Focus on fields that balance social value and economic value. (business portfolio restructuring)
[Priority measures]
◆ Structural reforms aimed at growth in priority businesses, regions, and customers


(expand sales in safety systems, interior/exterior, and materials businesses to regional automakers in North America, India, and China)

◆ Forge strategic alliances to accelerate growth globally and strategically reinforce development and intellectual properties (IP).
◆ Revamp management with a "polymer-like organization" that organically binds people and the organization.
[FY2030 financial objectives]
Revenue
¥1,200.0 bn
Operating profit
¥100.0 bn
Operating profit ratio
8%
ROE
10%
TG Spirit
This Spirit is the attitude and way of thinking we should all hold close to our hearts as we perform the work of Toyoda Gosei, and one of the most important things for us to carry into the future. Sharing this TG Spirit throughout the entire Toyoda Gosei Group will bring us together as a single team that goes beyond differences in nationality, culture, age, or gender.
We shall each strive to uphold this TG Spirit under the banner of "One Team, One TG."
1.Customer Oriented

Think from the customer's perspective

How can we help customers get what they want?

2.Challenge

Aim high, be resolute in the face of difficulties

We will aim high, set ambitious goals and work relentlessly toward achieving them no matter what the difficulties may be.

3.Ownership

Be responsible and proactive

Each and every TG employee is encouraged to feel a sense of ownership for the products that leave our doors.

4.Continuous Kaizen

Never be satisfied; improvement never ends

Using the approaches of genchi-genbutsu (go and see) and genjitsu (activities based on the actual situation) and asking why five times, we will constantly strive to bring our operations and products to the next highest level.

5.Respect

Respect for individuals and their perspectives

We will maintain respect for the individuality and perspectives of each person, be humble in our dealings with others regardless of nationality, gender, or rank, and always try to learn from each other.

6.Teamwork

Help each other, grow as a team

We will combine our strengths within teams, between departments, and between Toyoda Gosei Group companies to make One TG a reality.