Philosophy・Vision
Company
Philosophy・Vision
Delivering satisfaction to customers worldwide through safety, comfort, well-being and the environment
Since the company was founded in 1949, we have contributed to society through the provision of automotive products that mainly use rubber and plastics technology under the company credo of "Boundless Creativity and Social Contribution." Today, we have 62 Group companies in 16 countries and regions.
The automobile industry is currently facing a period of great transformation with the advances in autonomous driving and electrification. Taking this huge change as an opportunity, we are harnessing the power of all 40,000 employees working together to respond to changes in the business environment and achieve sustainable growth in the future, we aim to grow as a global company that delivers satisfaction to customers worldwide through safety, comfort and well-being and the environment.
Based on the Toyoda Gosei management philosophy, we seek to take a leading role in solving the shared global issues raised in the Sustainable Development Goals (SDGs), which is an aim of international society, and implementing the ESG (Environmental, Societal, Governance) framework. In this way we want to contribute to a sustainable society through our business activities. In 2018 we formulated the 2025 Business Plan, our mid-range business plan, with the aim of achieving sustainable growth through the resolution of social issues based on three pillars of activity: "Venture into Innovation, New Mobility," "Strategy for growing markets/fields," and "Innovative manufacturing at production sites." In the future, under an appropriate governance system, we will actively respond to the expectations of all our stakeholders worldwide, including customers, shareholders, investors, employees and suppliers.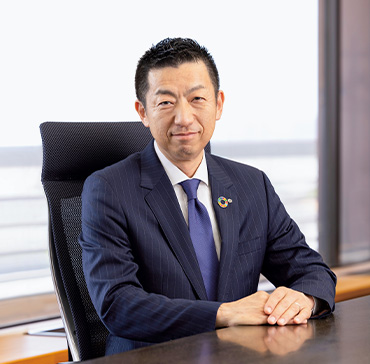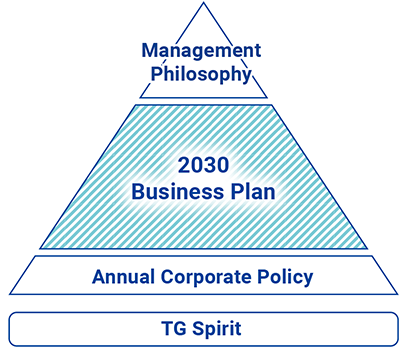 Management Philosophy
Boundless Creativity and Social Contribution
1

We, as a good corporate citizen, contribute to the economy and society through community-based business activities and social action programs.

Good corporate citizenship

2

We promote business operations with integrity through the establishment of a system founded on thorough compliance and corporate ethics.

Proper business operation

3

We aim to build up the TG Group's collective strength through an open and fair relationship with suppliers, through a mutually strengthened corporate structure and innovative management response to change.

4

We aim to provide products and services with satisfying quality and price in a timely manner, through forward-looking R&D and production engineering.

5

We aim to conserve the global environment and resources in order to hand down a greener world to our children through every business activity, which includes cooperation with society and the development of an environment-friendly product and manufacturing process.

Conservation of global environment and resources

6

We aim to establish a vibrant corporate culture through respect for individuality and the value of enhanced teamwork, based on shared responsibility and mutual trust between employees and management.

Respect for the individual
Mid-Term Business Plan
(2025 Business Plan)
To deal with the significant changes in the business environment and achieve sustainable growth into the future, Toyoda Gosei's 2025 Business Plan for the medium term lays out three key areas that take advantage of the Toyoda Gosei Group's cultivated strengths. We are making efforts tied to materiality that will provide both social and economic value.
Toyoda Gosei aims to grow as a global company that acts flexibly and swiftly in today's dramatically changing business environment, delivering the highest levels of satisfaction to customers worldwide through safety, comfort, well-being and the environment

FY2017
(J-GAAP)
Revenue
¥806.9 billion
Operating profit ratio
5.1%
ROE (Return on equity)
6.6%

FY2025
(IFRS)
More than ¥1 trillion
8%
10%
Pillar Ⅰ

Venture into innovation,
new mobility

New Technology, New Products

●Commercialization in new fields utilizing core technologies
●Development of new technologies and products coping with CASE
●Strategies of modularization and system products

Pillar Ⅱ

Strategy for growing
markets/fields

Current Products

●Selection and concentration of business resources
●Make current products more highly value-added
●Business plan execution through cooperation with customers and business partners

Pillar Ⅲ

Innovative
manufacturing at
production sites

Current Products

●Globally standardized production know-how and processes
●Further implementation of the Toyota Production System (TPS)
●"Jidoka" and manpower saving utilizing IT
●Reduction of environmental burden by production engineering reform
Base of the Pillars Enhancement of our business foundation
●Strengthening global operations
●HR development
●Business activities with integrity
Financial Policy
Shareholder returns

Regarding shareholder returns for the time being, we will work wholly to reward shareholders based on a consolidated payout ratio of 30% or greater, from a variety of perspectives.
Capital investment

We will secure 50 billion yen by FY2025 as funding for capital investment for growth.
Cash reserves

In view of the prevailing circumstances, we will secure cash reserves* of consolidated monthly turnover plus 30 billion yen including funds to cover risk.


*Short-term borrowings(less than one year) are excluded.
TG Spirit
This Spirit is the attitude and way of thinking we should all hold close to our hearts as we perform the work of Toyoda Gosei, and one of the most important things for us to carry into the future. Sharing this TG Spirit throughout the entire Toyoda Gosei Group will bring us together as a single team that goes beyond differences in nationality, culture, age, or gender.
We shall each strive to uphold this TG Spirit under the banner of "One Team, One TG."
1.Customer Oriented

Think from the customer's perspective

How can we help customers get what they want?

2.Challenge

Aim high, be resolute in the face of difficulties

We will aim high, set ambitious goals and work relentlessly toward achieving them no matter what the difficulties may be.

3.Ownership

Be responsible and proactive

Each and every TG employee is encouraged to feel a sense of ownership for the products that leave our doors.

4.Continuous Kaizen

Never be satisfied; improvement never ends

Using the approaches of genchi-genbutsu (go and see) and genjitsu (activities based on the actual situation) and asking why five times, we will constantly strive to bring our operations and products to the next highest level.

5.Respect

Respect for individuals and their perspectives

We will maintain respect for the individuality and perspectives of each person, be humble in our dealings with others regardless of nationality, gender, or rank, and always try to learn from each other.

6.Teamwork

Help each other, grow as a team

We will combine our strengths within teams, between departments, and between Toyoda Gosei Group companies to make One TG a reality.