Building a Recycling Society

Toyoda Gosei uses resources effectively and contributes to a recycling society by reducing waste volumes*1 and water usage and designing products that are easily recyclable.
*1 We are currently attempting to reduce waste volumes for the minimization of industrial waste as set forth in the TG 2050 Environmental Challenge.
To move closer to the recycling society, or circular economy, envisioned in the TG 2050 Environmental Challenge, Toyoda Gosei aims to minimize industrial waste and water risks. We have set 2030 targets as milestones, and are making every effort to use resources effectively, reducing materials usage and waste volumes through thorough sorting and the design of easily recyclable products.
Frequent water shortages and floods have become a major problem in all parts of the world. We are attempting to identify these risks in every country and region where we have operations while also striving to give back to the community by reducing water usage, recycling water, and releasing cleaner wastewater.
Establishment of 2030 milestones
We have set and are working toward 2030 milestones to achieve the targets in the TG 2050 Environmental Challenge. For this we are developing products and materials that minimize remnants and waste and are easy to recycle, and thoroughly sorting them in plants.
■Scenario for minimizing amount of waste (reduction image)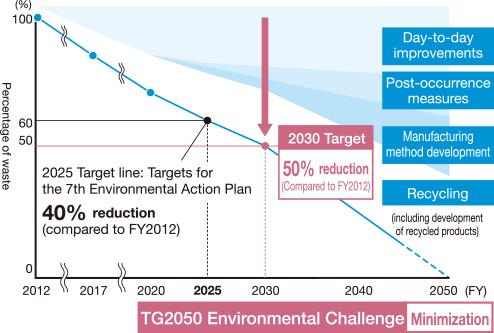 Development of product recycling technology
We develop and design easily recyclable products and materials with thought to the entire lifecycle of automobiles. We are also developing recycling technology for waste material.
■Development of technology for end-of-life vehicle We develop and design easily recyclable products parts recycling
Key items
Measures implemented
New recycling

Composite material separation technology
New recycling technology
(high quality material recycling)

Use of recycled materials in vehicles

End-of-life vehicle recycling technology
Development of applications for recycled materials

Product design for easy recycling

Product design for easy dismantling
Materials and composition changes for easy recycling
Reduction of waste materials in the production stage
To reduce waste in production processes, we are combating waste at its source and recycling. We have also started a waste reduction project with coordination among plants and production technology, materials technology, and product design departments to strengthen efforts to combat waste at its source. At each plant, we are reducing waste through genchigenbutsu (go and see), identifying items for reduction with the help of external experts, and implementing rubber, plastic, and liquid reductions.
Study sessions are also held to promote waste reduction at both domestic and international Group companies.
■Waste volume, waste volume per sales unit (index)*2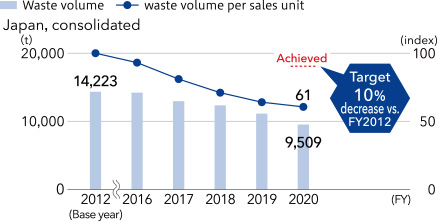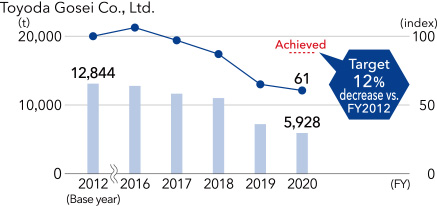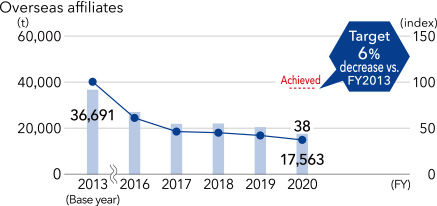 *2 The amount of waste per sales unit (index) is a figure obtained
taking the base year as 100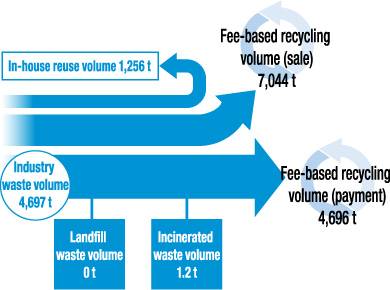 Waste reduction from design of airbag pads that can be easily taken apart*3
Previously, the pad and metal were riveted and caulked. As a result, when there was a problem the product could not be taken apart and it all had to be disposed of as waste, including good components. By switching to a fixation method that allows for easy dismantling while maintaining quality, and for separation of each material component (plastic pad, cloth, metal), waste was reduced by about 8.5 tons as a result of recycling and converting waste into valuables. We will continue reducing waste with similar approaches.
*3 The ability to easily dismantle various parts
Development of products that use material remnants
We are developing products using rubber remnants and recycled materials, and have developed a floor mat that reduces fatigue during work in factories. We have also developed ecobags and other products using airbag remnants, and have begun selling them under the "Re-S" brand name.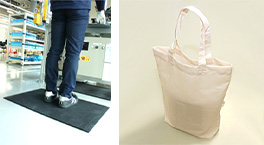 Promotion of waste and material remnant recycling
Rubber is vulcanized by mixing in sulfur and then applying heat and pressure. This enables products to maintain their shape and strength, but it makes recycling difficult. Toyoda Gosei has developed technology to recycle rubber by separating out the sulfur (devulcanization technology), and has set up a devulcanization line for the recycling of rubber in its Morimachi Plant in Shizuoka Prefecture, Japan.
■Weatherstrip recycling process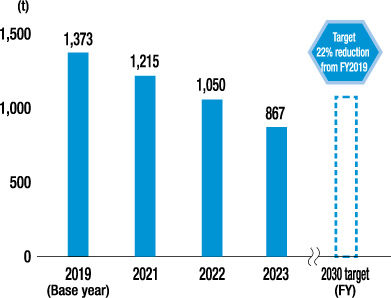 Reduction of packaging in the distribution stage
The packing material used in product transport is being reduced to prevent products from being soiled by increasing the number of times reusable containers are used in the field and maintaining cleanliness. We are also reducing packing material by putting lids on reusable containers and other changes, considering the balance between maintaining product quality and reducing the use of packing materials.
■Amount of distribution packing material used, amount used per sales unit (index)*4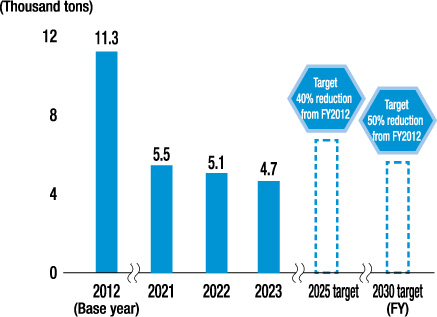 *4 The amount of distribution packing material used per sales unit (index) is a figure obtained taking the base year as 100
Reducing water risks
We have set and are working toward 2030 milestones to achieve the targets in the TG 2050 Environmental Challenge. For this we are assessing risks in both water usage and water quality in Japan and international locations, and making improvements at high-risk locations.
Even in places where risks are low, we are trying to reduce water intake amounts for the effective use of resources.
In FY2020, we cut water use through improvements to reduce leakage and by promoting recycling. We are also planning upgrades to wastewater treatment facilities for cleaner waste water.
Item
2030 Target
High risk area
Water quality
Measures completed at four locations
Water intake
Measures completed at seven locations
Low risk area
Water intake per sales unit
11% decrease vs. FY2019
■Water use, water use per sales unit (index)*5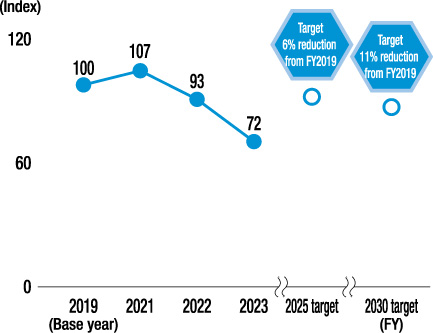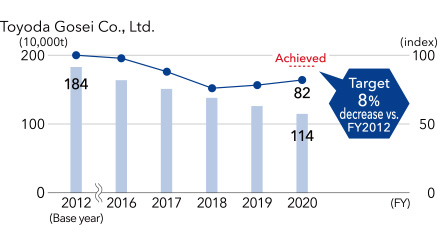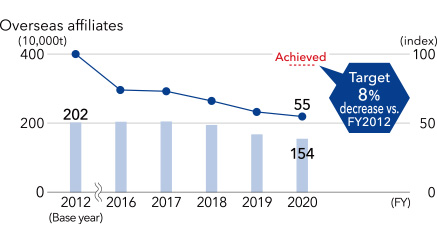 *5 Water use per sales unit (index) is a figure obtained taking the base year as 100
Wastewater treatment facility at Morimachi Plant upgraded
The wastewater treatment facility for production processes at the Morimachi Plant, which had been in use for more than 30 years, was upgraded in FY2018. With the adoption of more advanced processing (membrane bioreactor) and a constant monitoring system, a cleaner and more stable water quality than before is achieved in wastewater. Future use as coolant water is under investigation.
Reduced water usage with the use of rainwater
Toyoda Gosei Group company Hoshin Gosei Co., Ltd. reduced water usage about 3% by recirculating water in production processes, installing green curtains, and using rainwater to water plants in employee rest spaces.