Global Network
Company
Global Network
Europe & Africa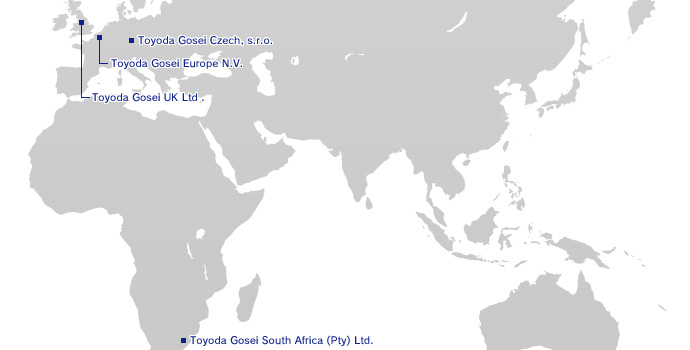 Global Network : Europe & Africa
Belgium
Toyoda Gosei Europe N.V.

Location:

Planet, Unit E3. 0, Leuvensesteenweg 542, 1930 Zaventem, Belgium
Map

Function:

Regional Headquarters
Sales and Research & Development locations
UK
Toyoda Gosei UK Ltd.

Location:

Bessemer Way Centurion Business Park, Templeborough Rotherham,South Yorkshire, S60 1FB, UK
Map

Production:

Weatherstrips
Interior and Exterior Parts
Czech Republic
Toyoda Gosei Czech, s.r.o.
South Africa
Toyoda Gosei South Africa (Pty). Ltd.

Location:

15 Beechgate Crescent, Southgate Business Park Moss Kolnik Drive, Umbogintwini, Kwazulu Natal, 4012, South Africa
Map

Production:

Weatherstrips
Safety System Products