News
January 19, 2023
Toyoda Gosei and Asics Design Sustainable Sneakers Using Airbag Fabric
Kiyosu, Japan, January 19, 2023: Toyoda Gosei Co., Ltd. has teamed up with major sports equipment manufacturer Asics to make a "sustainable sneaker" using airbag fabric remnants from the manufacturing process. Starting on January 26, the Asics Sports Style and other models will be available for purchase at Asic's online store and elsewhere.
Airbag fabric and steering wheel leather remnants are difficult to recycle, and Toyoda Gosei has been transforming these materials into bags, pen cases, and other products that it sells under the Re-S eco brand. Asics has also been seeking ways to incorporate recycled materials in its sneakers and sportswear.
This joint project has been achieved with a shared mindset between the two companies in working to achieve a sustainable society. These sneakers use a highly durable nylon fabric while also featuring excellent design, including embroidered seams. They were planned to appeal especially to younger people with a high environmental awareness.
Toyoda Gosei will continue joint product planning with Asics to utilize material remnants generated in its plants.
Asics online store:https://www.asics.com/jp/ja-jp/mk/sportstyle
Asics online store:https://www.asics.com/jp/ja-jp/mk/sportstyle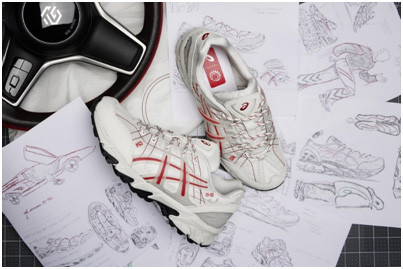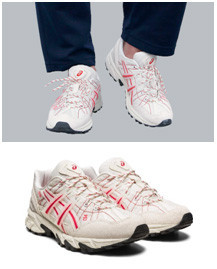 Sneakers with airbag fabric used in the uppers
(GEL-SONOMA 15-50)