News
February 15, 2023
Toyoda Gosei's LED Driver Alert Lighting System Used on New Prius
Kiyosu, Japan, February 15, 2023: Toyoda Gosei Co., Ltd. has developed an LED driver alert lighting system that adds an alert function to decorative lighting. This system is used on the new Toyota Prius.
Toyoda Gosei has been developing high value-added products that combine electronic components with its core rubber and plastic technology. Adding functions for communication between vehicle and occupants via LED lighting (human-machine interface system) to the steering wheel, instrument panel and other cockpit products contributes to the creation of more secure and comfortable mobile spaces.
The new LED driver alert lighting system visually alerts drivers using strong light at times such as when they remain stopped at an intersection without noticing that the vehicle in front of them has moved forward, or before the vehicle's automatic deceleration system begins operating when a pedestrian or some obstacle is detected. The brightness of the strong light used to alert the driver is about 30 times higher than conventional decorative lighting. The light distribution design uses a light guide to direct the light toward the driver's seat, so that it is easily noticeable by the driver even during the day.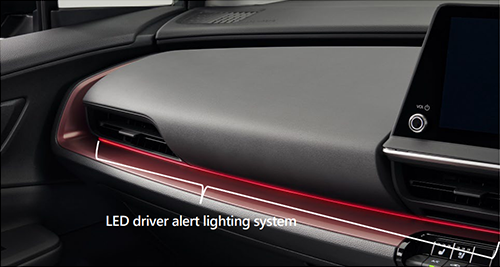 LED driver alert lighting system used on Prius