News
February 10, 2023
Toyoda Gosei Enhances Airbag Production Capacity in Northern India
Kiyosu, Japan, February 10, 2023: Toyoda Gosei Co., Ltd.'s Indian subsidiary Toyoda Gosei Minda India Pvt. Ltd. will enhance the production capacity at its headquarters plant (Neemrana Plant) to meet the growing demand for airbags as safety regulations become stricter in India.
Driver and passenger side airbags for frontal collisions are increasingly equipped on vehicles in India. The use of side and curtain airbags to protect vehicle occupants in side collisions is also predicted to expand. To meet the accompanying growth in demand, Toyoda Gosei Minda India will expand its Neemrana plant and install airbag production equipment.
Toyoda Gosei considers India, where automobile production is increasing, to be a key market. The company has built up an optimum production and development network in the northern, western and southern parts of India where its main customers in that country, Suzuki and Toyota, are located. It will grow its business by responding flexibly and swiftly to customers' procurement needs with a focus on airbags, one of the company's major products. Through the spread of safety equipment, Toyoda Gosei will contribute to safe and secure mobility in society.
Outline of Toyoda Gosei Minda India (Neemrana Plant)
Established
April 2008
Location
Neemrana, Rajasthan, India
Land area
Bldg. area
Approx. 78,000 m2
Approx. 21,000 m2 → After expansion
approx. 35,000 m2


Operation scheduled to start in September 2024

Products

Safety systems (airbags, steering wheels, etc.) Weatherstrips

No. of employees

Approx. 1,100 (as of Dec. 31, 2022)

Investment amt.

JPY2.2 billion
Side impact airbags, for which demand is growing in India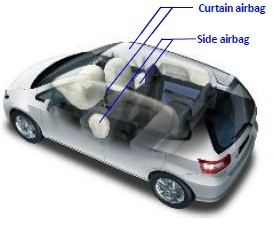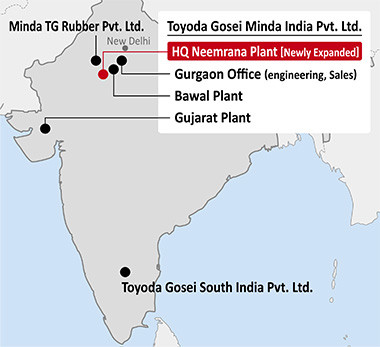 Production network in India
Toyoda Gosei Minda India Neemrana Plant