News
February 14, 2023
TG Develops Compact UV-C LED Water Purification Unit
Kiyosu, Japan, February 14, 2023: Toyoda Gosei Co., Ltd. has developed a compact deep ultraviolet (UV-C) LED water purification unit that can be installed even in tight spaces.
Toyoda Gosei is developing various products that disinfect water and air using UV-C LEDs, which effectively eliminate viruses and bacteria. One of the company's water purification units is equipped on the "WOSH" water-circulating type portable washstand that has been on the market since November 2020.
The new unit uses the water flowing inside the unit to cool the heat emitted by the LEDs. This reduces the number of parts for heat dissipation and makes the unit more compact; only one-third the size of the previous model. This product was adopted by a major consumer electronics manufacturer and used in one of that company's EcoCute water heaters, a type of water heating and supply system that efficiently heats water using the heat in air, which was developed against a background of rising hygienic awareness. The water circulating in the hot water piping for baths is irradiated with deep ultraviolet rays, reducing viruses and bacteria in bathtubs for more soothing and pleasant bathing.
TG will enhance its lineup of water purification units that can efficiently eliminate microbes to meet the uses and performance demanded by customers.
Newly-developed compact UV-C LED water
purification unit (water cooled)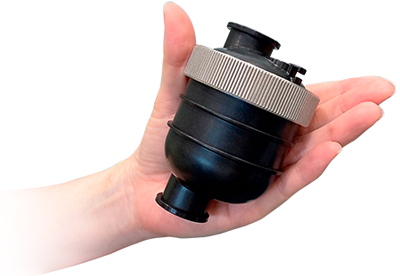 ■ High disinfection performance (disinfects 8 liters in 1 minute)
■ Adopts an LED cooling method with flowing water while being more compact in size. Can be installed even where space is limited.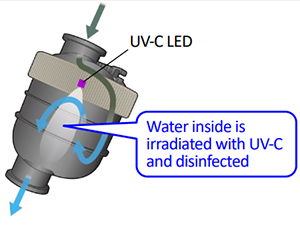 Use in EcoCute (disinfection after bathing, disinfection of remaining water)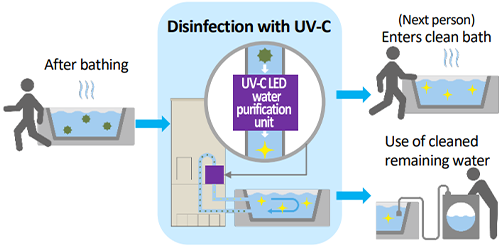 Reference
UV-C LED water purification unit (radiational cooling type)and "WOSH" portable washstand(sold by WOTA Corp.)