News
Toyoda Gosei Invests in EneCoat Technologies, a Developer of Next-Generation Solar Cell Technology
February 24, 2023
Toyoda Gosei Invests in EneCoat Technologies, a Developer of Next-Generation Solar Cell Technology
Kiyosu, Japan, February 24, 2023: Toyoda Gosei Co., Ltd. has invested* in EneCoat Technologies Co., Ltd., a startup out of Kyoto University that develops thin perovskite solar cells with high power generation efficiency.
Perovskite solar cells have greater flexibility than existing solar cells, making them easier to use on curved surfaces. They are considered promising for their potential as a means of low-cost, high-efficiency power generation. EneCoat Technologies is currently working to improve the durability of these cells and solve other technical issues that will be necessary for practical application.
The two companies will combine their knowledge of materials and production technology for the joint development perovskite solar cells leading to their commercial application. In the future, Toyoda Gosei will also look into the application of these solar cells in automotive parts, and other products under development that use electronics.
*This investment was made in January 2023 by the company's Corporate Venture Capital Dept., a dedicated internal organization for corporate venture capital investments.
Profile of EneCoat Technologies
| | |
| --- | --- |
| Name | EneCoat Technologies Co., Ltd. |
| Location | 43-1 Sako Sotoyashiki, Kumiyama-cho, Kuse-gun, Kyoto, Japan |
| President and CEO | Naoya Kato |
| Founded | January 2018 |
| Capital | JPY90 million |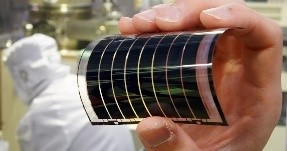 Perovskite solar cells are thin,
lightweight, and flexible, and have a
high conversion efficiency