News
March 16, 2023
Toyoda Gosei Invests in Bike Share Operator neuet, Inc.
Kiyosu, Japan, March 16, 2023: Toyoda Gosei Co., Ltd. has invested* in neuet, Inc., a start-up that is expanding mobility services with a bicycle sharing service.
Neuet currently operates this bicycle-sharing services in four cities in Japan, its home base of Fukuoka as well as Nagoya, Tokyo, and Kumamoto. It manages all aspects of the service, from the bicycle-sharing system to the smart phone application, planning, design, and development of the bicycles, and contracting the bicycle stations. This brings them advantages in directly capturing the voice of the customer and reflecting those voices speedily in their service.
Toyoda Gosei has been developing new products and services matched with software for higher added value, with the aim of creating businesses in new fields that leverage its core rubber and plastic technology. One example of this is its smart insole (e-Rubber sensor) and dedicated app that provide visual representations of body weight balance during playing sports or walking. With this investment, Toyoda Gosei is eyeing the use of neuet's knowledge of app development and service operation to further raise the value of its future products and services. For the greater convenience of its employees, it is also looking into the use of bicycle sharing for trips between its business locations that are within bicycle range of each other.
*The investment was made in February 2023 through the company's Corporate Venture Capital Dept., a dedicated internal organization for corporate venture capital investments.
Profile of neuet
| | |
| --- | --- |
| Name | neuet, Inc. |
| Location | KBC Kaikan 2F, 1-1-34 Nagahama, Chuo-ku, Fukuoka City, Japan |
| CEO | Kentaro Iemoto |
| Founded | July 2019 |
| Capital | JPY20 million |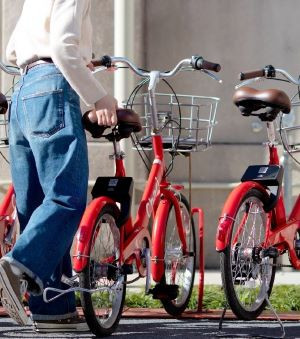 neuet's "Charichari" bike share service