News
March 31, 2023
Toyoda Gosei Launches "FEELSOLE" Insoles for Improving Golf Swing
Kiyosu, Japan, March 31, 2023: Toyoda Gosei Co., Ltd. has launched* FEELSOLE shoe insoles that use the company's thin, flexible e-Rubber sensors (pressure sensors made of rubber) to capture pressure data on the soles of the foot during movement. Sales of FEELSOLE starts from April 2023.
FEELSOLE features accurate measurement of slight changes in foot sole pressure, lightness and high flexibility to tolerate large shape changes. In combination with the dedicated app (limited to Japan), they can make serial measurements of body weight movement during a swing and display the results by colored heat map on a smart phone. This information can be used to improve the user's golf swing. FEELSOLE automatically detects seven key positions in a golf swing, from the address to finish, allowing users to check their actual body weight movement. FEELSOLE will first be sold to golf schools, and later expanded to general customers.
In addition to sports uses, Toyoda Gosei is working with companies, government agencies, and healthcare institutions to use this technology in healthcare, for example in the early detection of weakening of the legs (preventive medicine).
*In cooperation with INOAC Corporation, Kihara Sangyo, Systec Corporation
FEELSOLE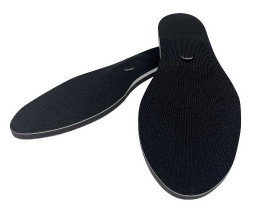 Sizes: S (23-24.5 cm), M (25-26.5 cm), L (27-28.5 cm)
Application screen