News
May 09, 2023
Another Step Toward Carbon Neutrality
Toyoda Gosei Switches to Renewable Energy at All R&D Centers in Japan
Kiyosu, Japan, May 9, 2023: Toyoda Gosei Co., Ltd. has switched all of the power used at its Kitajima Technical Center in Aichi, Japan to green energy generated from renewable energy sources such as solar, wind and biomass. This will cut annual CO2 emissions by about 7,000 tons in FY2023 compared with the previous year, and completes the shift to renewable energy at all of its research and development centers (Kitajima and Miwa Technical Centers) in Japan.
Toyoda Gosei has set the targets of cutting CO2 by 50% compared with 2013 levels and using 50% renewable energy by 2030 as mid-range targets (Targets 50 & 50) on its way toward achieving carbon neutrality by 2050. The goal is planned to be reached by two steps; energy savings, or reduction in total power consumption, and switch to renewable energy. The former step consists mainly of technical innovations and high-efficiency equipment in production processes, while the latter includes installing solar power equipment, purchasing green power, and Non-Fossil Certificates, certificates in Japan for the value (environmental value) of renewable energy that "does not emit CO2."
This introduction of renewable energy at the Kitajima Technical Center follows similar changes at Toyoda Gosei Headquarters, Inabe Plant (FCEV high pressure hydrogen tank plant), Miyoshi Distribution Center in FY2021 and the Miwa Technical Center in FY2022, and will be expanded systematically in the future.
Plan to increase renewable energy usage rate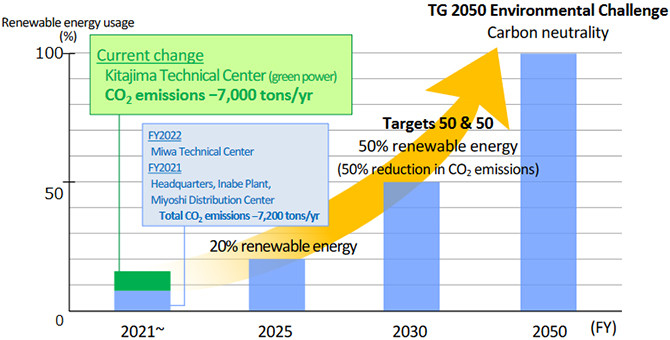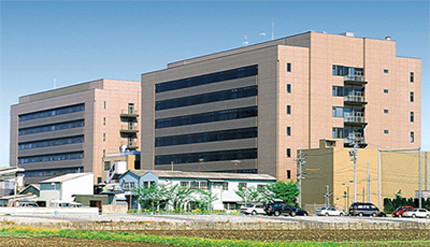 Kitajima Technical Center