A leader in airbag development;
constantly improving simulation technology
A leader in airbag development; constantly improving simulation technology
Today, about 13.5 million lives are lost in traffic accidents worldwide each year. Although traffic fatalities are decreasing in Western countries, Japan, and other developed nations, they are increasing in emerging countries and regions where the spread of airbags and other safety equipment has not kept up with the growing traffic volume. Toyoda Gosei has developed various types of airbags and supplies them globally, contributing to the manufacture of safer automobiles. To reduce the number of traffic accident victims in the future, the further spread and evolution of airbags will be essential. We will support this with the computer simulation technology (CAE* technology) we have built up over more than 30 years.
*CAE, or computer-aided engineering, is a computer simulation system that aids in the design and development of products. Products and related physical phenomena are predicted and reproduced on computers, from which structures, mechanisms, and flow can be analyzed. This raises the efficiency of new product development.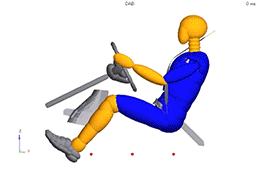 01

Protection in all directions

We first developed driver-side airbags in 1989, and since then have made various airbag products for side impacts and the protection of rear passengers. We have achieved 360° full coverage to protect people in the vehicle cabin from impacts from all angles. We have further expanded our targets and are now working to develop and mass produce airbags that protect pedestrians, who account for many traffic fatalities.

02

Making breakthroughs with repeated experiments using actual items

Toyoda Gosei conducted experiments for the development of a practical airbag starting in the 1980s, and in 1989 successfully mass-produced driver-side airbags. That same year, a performance evaluation test site (sled test) was installed at the Kitajima Technical Center (Inazawa, Japan). With this it became possible, in addition to the tests and evaluations on airbags themselves that had been conducted up to that time, to analyze the movement of the body during collisions and the degree of injury with consideration of the vehicle overall, including the vehicle's impact absorption performance and seat belt performance. Efforts were begun to evaluate safety performance at the vehicle level. Then, from around 2000, we introduced computer analyses that could reproduce the movement of vehicle occupants during collisions.

Sled tests simulate actual vehicle collisions
(currently performed at the Miwa Technical Center [Ama, Japan])

The technology began to truly evolve from around 2009. The people involved in development included not only simulation engineers but also performance and evaluation engineers who conducted tests with actual items in airbag deployment tests and sled tests and airbag design engineers. The process of airbag deployment was reproduced and made faster. Airbag shape changes moment to moment from their folded state until they act to restrain vehicle occupants, and this was a big barrier to reproduction on computers at that time. The thing that allowed us to overcome this was the knowledge we had obtained from repeated experiments with actual items.
In simulations, it was particularly difficult to reproduce the flow of the gas that inflates the airbag. Toyoda Gosei, in cooperation with Tohoku University, succeeded in visualizing how gas spreads out from the inflator. It was said that the flow of gas within the airbag could not be adequately reproduced with the technology of the time, but in 2015 a conceptual breakthrough was achieved by our simulation and performance test engineers. Repeated trial and error was needed to reproduce how the airbag actually inflates, but our deep knowledge of the real movement of various factors that affect airbag deployment, gained from more than 30 years of constant experiments, made this possible.
Leveraging experimental findings with actual objects, we use simulation
technology to reproduce how actual gas flows in the interior when an airbag opens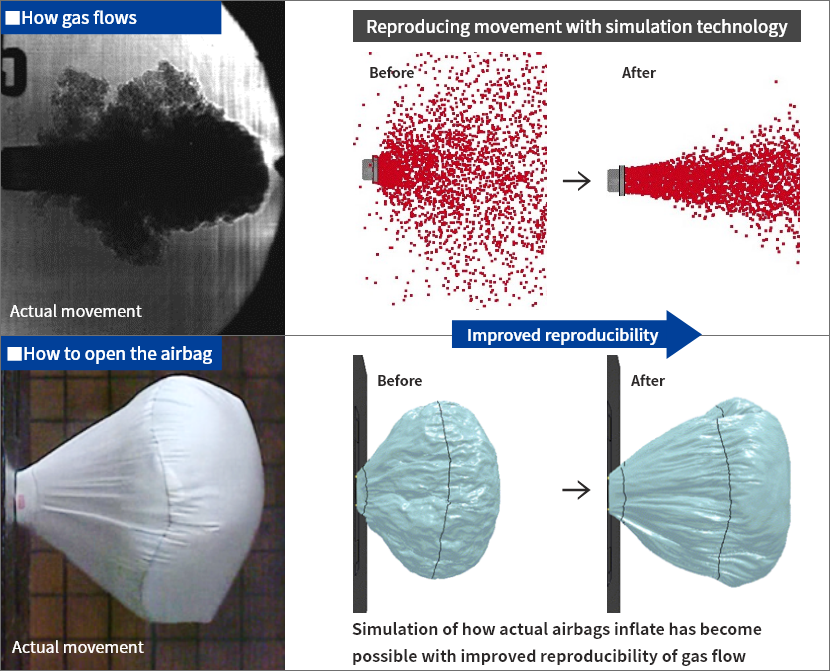 03

Moving toward safer, next-generation mobility in society with evolving technology

As simulation technology has evolved, reproduction and evaluation continues to become more possible not only with dummies for crash tests but also assuming real people. For example, we expect to become able to conduct simulations of vehicle occupants with various body types: solidly-built people, thin people, tall people, small people, and children, as well as elderly with decreased bone density and pregnant women. We have also developed products assuming complex impacts and types of accidents, such as oblique impacts in collisions with other cars, that have not been assumed in safety tests. It has also become possible to evaluate how airbags open and restrain vehicle occupants in vehicles of various shapes, such as SUVs and mini cars.
This technology will become increasingly important with the spread in society of airbags optimized for the new types of vehicles that will increase in the future. Electric vehicles are being rapidly adopted, and the difference in their body structure from that of internal combustion engine vehicles means that there will be changes in impact absorption during collisions. Moreover, we imagine that with autonomous driving there will be more freedom in the sitting postures of vehicle occupants and seat positions. The development of new airbags will be essential in responding to these changes. Toyoda Gosei will support this with evolving simulation technology, and continue to help society move toward zero traffic fatalities.

The evolution of technology is making evaluations under various conditions possible
Various body types

Can deal with diverse body types, including children,
elderly people and pregnant women

Types of collision

Effective in oblique collisions and other forms of collision
that are expected to become a new safety assessment criteria in the future

Types of vehicle

Can deal with changes due to differences in vehicle structure such as SUVs
and mini cars, and number of vehicle occupants
Engineer voice
Will the day come when we can begin mass production without making a prototype airbag?!
We are still in the introductory stage of airbag simulation technology. We will continue the evolution of this technology without letting up so that we can more faithfully simulate the structure and properties of every part of the human body and reproduce all types of accident circumstances on computers. Eventually, we should be able to develop the most suitable airbags without making prototypes, and be able to contribute to zero traffic accident fatalities. We will continue to pursue the development of technology while picturing the age to derive the most suitable airbag shape with AI based on accumulated data.
Hitoshi Ida, Chief Engineer, Performance and Evaluation Engineering Division